Contents:
Setup Video
How to install the Final Cut Pro integration via CommandPost
Install CommandPost here.

Note: Upon install, you'll be prompted to grant accessibility access; please allow this or else key CommandPost functionality—including the Monogram integration—may not work.


Select the CommandPost icon in the macOS menu bar. Choose "Control Surfaces" from underneath the "Settings" heading.


Select the Monogram icon inside the Control Surfaces settings window.


Enable the preferences for "Enable Monogram Support" and "Enable Automatic Profile Switching" (see illustration below).




Select "Open Monogram Creator" — you will now see a FCP icon labelled "Final Cut Pro (via CP)" (see illustration below).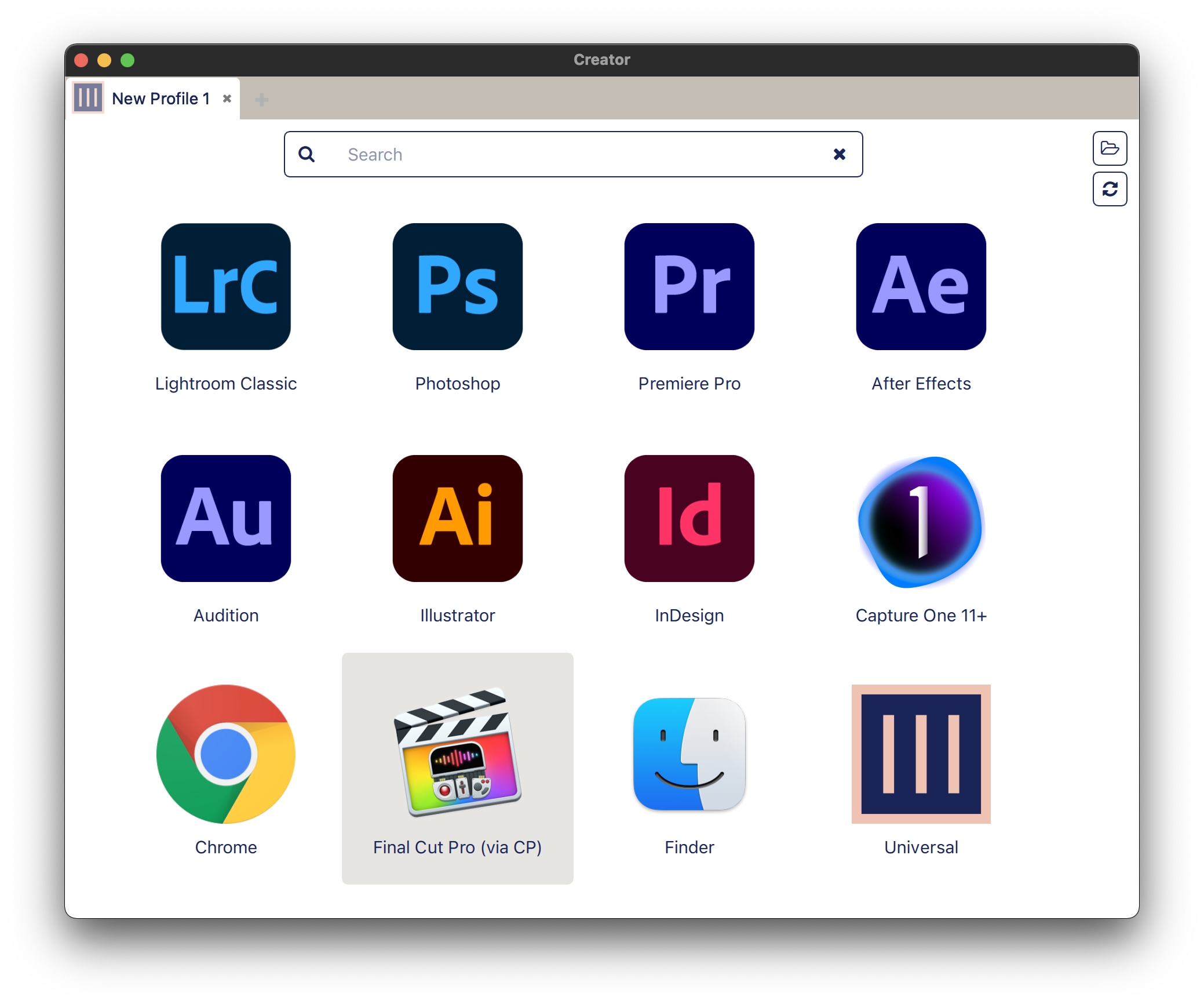 After a successful install, the Final Cut Pro via CommandPost profile type will appear in Monogram Creator
Video Walkthrough
Building a Final Cut Pro profile
Option 1: Use Quick Start profiles
In Monogram Creator, select the Final Cut Pro via CommandPost icon to create a new FCP profile (see illustration above).


When prompted, accept the prompt to view Quick Start profiles. If this doesn't appear, select the Quick Start button at the bottom center (a square icon with two upwards arrows)


Choose a profile which corresponds to your desired console and workflow. For example, an Editing profile made for the Studio or Master Console (see illustration below).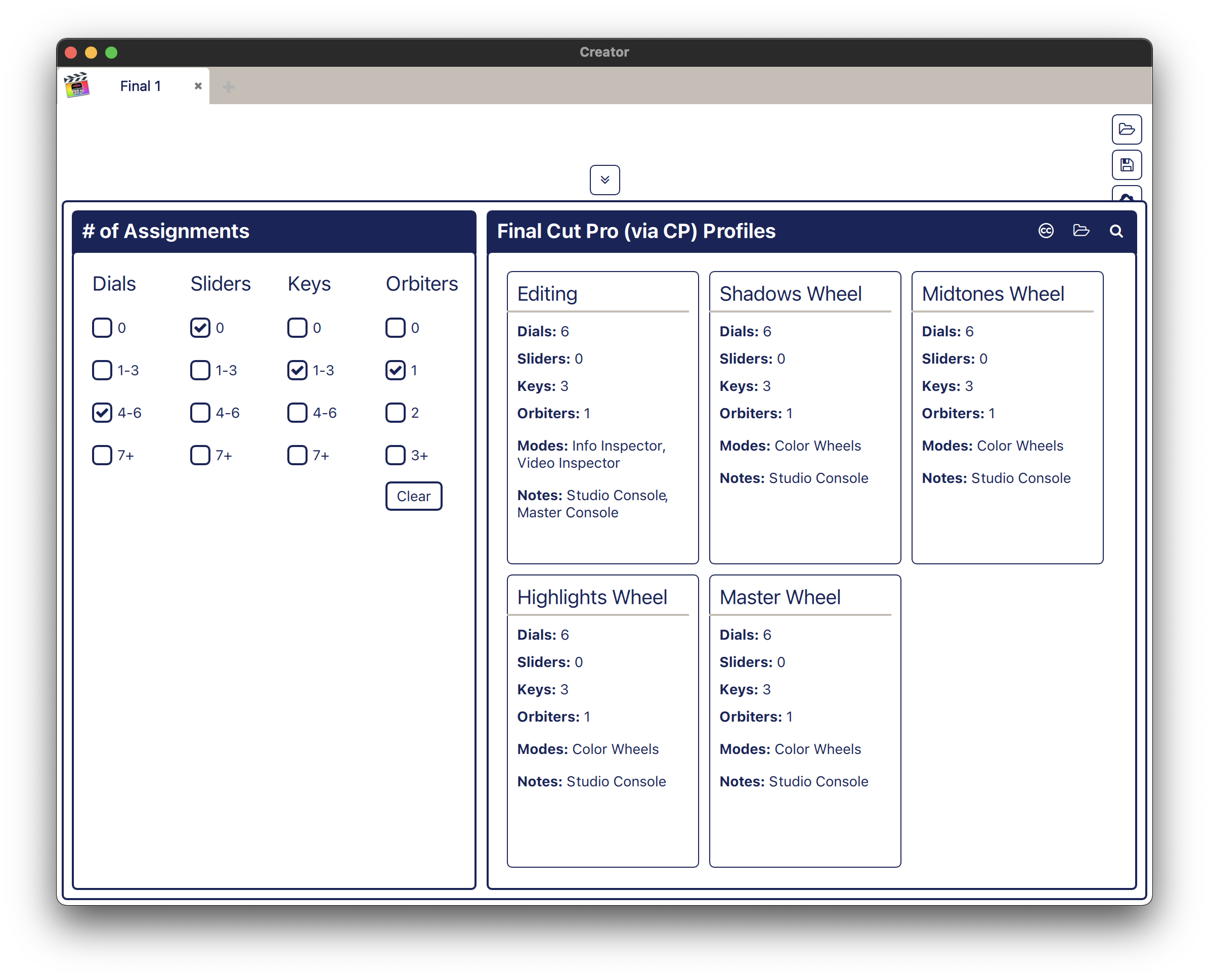 Quick Start profiles are available to fit specific consoles and workflows. This is a selection of Studio Console profiles.
Option 2: Build a custom profile
In Monogram Creator, select the Final Cut Pro via CommandPost icon to create a new FCP profile.


You should be taken to a blank illustration of your console, showing that it has no assignments yet. If prompted, refuse the prompt to view Quick Start profiles.


Select each module in order to see the available assignment presets. Select "Customize" from the left-hand side to access customizations like step (dials), range (sliders), and separate input actions (ie separate turn, press and turn, and press actions for dials).
Note: To learn more about how Module Assignments work, please see this article.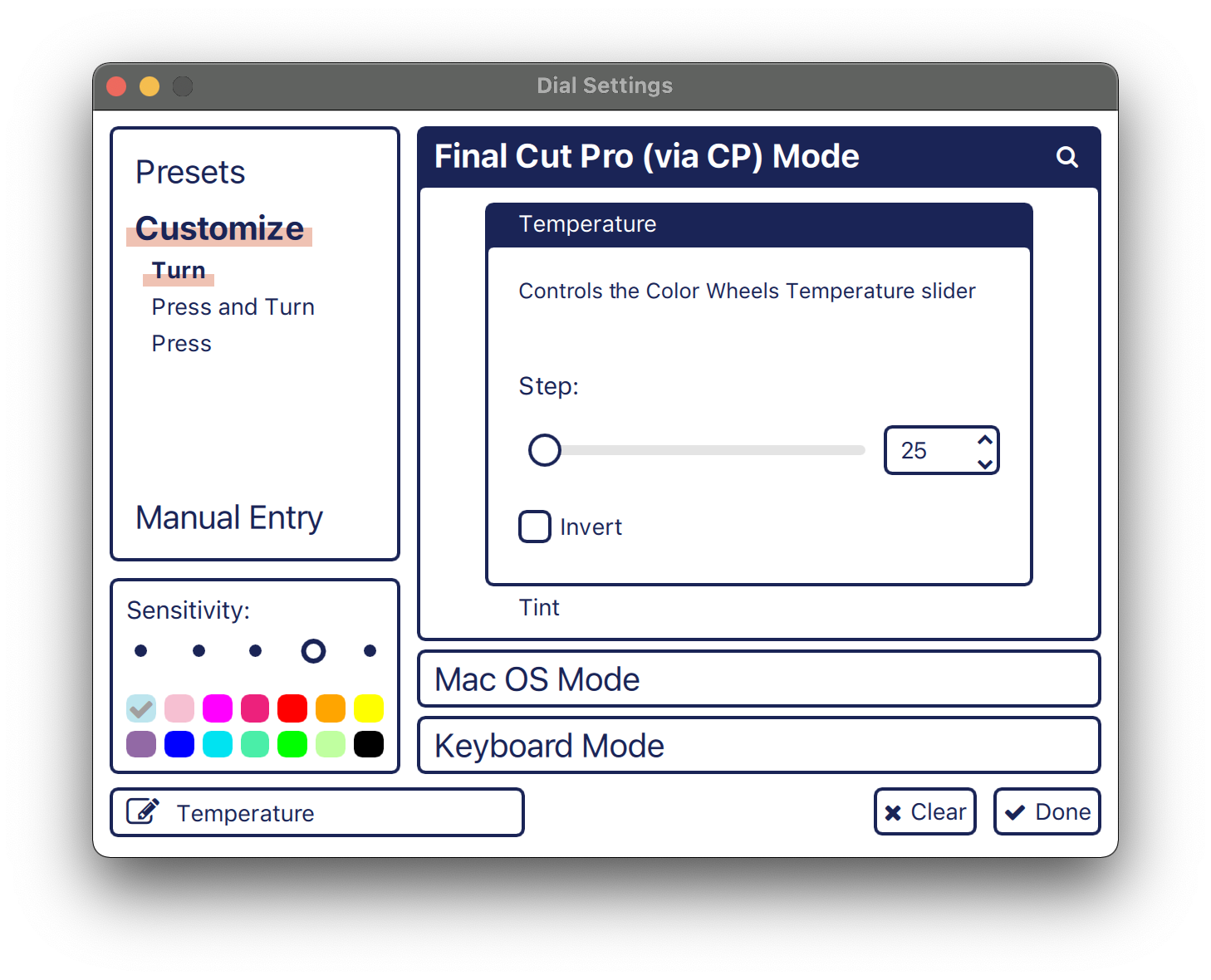 Customize view offers a greater variety of module assignments compared to Presets view.
FAQs
What are the compatibility requirements?
What is CommandPost, and how does it fit into this integration?
CommandPost.io is a free, open-source, macOS-native application that acts as a bridge between control surfaces and software that doesn't natively support control surfaces.
Simply put, CommandPost receives input from Monogram Creative Console and translates it into an output that controls Final Cut Pro.
The developers of CommandPost are macOS and Final Cut Pro experts, which is why we at Monogram have chosen to partner with them to offer this integration.
What can I control in Final Cut Pro with my Monogram console?
This integration was developed with color grading, clip reframing/motion, and editing in mind.
As a result, a majority of adjustments and options in the color wheels, color boards, video inspector, and menu bar can be controlled with your Monogram console.
Additionally, up to 20 CommandPost-exclusive functions (like batch export) can be assigned to Monogram keys by using the favorites feature.
Can you support [this FCP feature]?
We would encourage you to share a feature request. The CommandPost team maintains an active users' group on Facebook; ideas and bug reports are welcome.
Is it compatible with Palette Gear?
Yes! Although many features (like the color wheel support) benefit heavily from Monogram hardware, you will find that it works great with your Palette Gear kit too.
Is there an additional cost for this integration?
Nope! Monogram support is part of the free, open-source CommandPost app; simply install CommandPost to get started.
As with many open-source projects, CommandPost depends on passionate developers and generous sponsors. If you enjoy the integration, please consider sponsoring them.